Welcome to Buerskogen Camping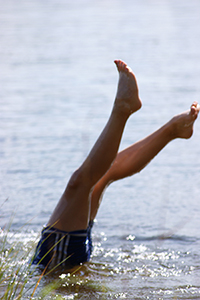 Buerskogen Camping is located by the idyllic Lake Ørsjøen. It is twenty minutes by car from the city of Halden. It is a family-friendly campsite with a playground for the little ones in addition to facilities by the lake where you can fish, rent a canoe or have a refreshing bath.
The campsite store contains a small assortment of ice cream, snacks, soda and some groceries. There is a stage nearby suitable for various small events witch has been previously used for karaoke and live music performance.
We at the Buerskogen Camping have received positive reviews on our sanitary facilities. There you can use the toilet and rent the washing machine or shower.
Camper Park
In the summer of 2023, we opened a new Camper/Mobile Home Parking with room for 12-14 vehicles.
Year-around Campsite
Buerskogen Camping has 45 permanent sites located on several levels in the forest.
Tent pitches
We have a grassy plain perfect for pitching a tent by the lake.
Fishing in Lake Ørsjøen
Lake Ørsjøen is a great lake with a unique ecosystem and plenty of fish. The Lake also serves as a source of drinking water for the community. Our common future thank you for treating it respectfully, and leave it as it was when you came! The campsite has lots of garbage disposal cans all around the area.
Thank you in advance for using it!
If you would like to fish in Lake Ørsjøen, contact the reseption for purchasing a fishing license.